---
Welding Automation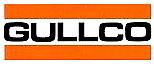 MOGGY®
Portable, Trackless Travel Carriage System
For low cost, high efficiency Automation of Horizontal

---
An Introduction to Gullco "Moggy" Trackless Welding Automation
This Gullco automated welding system features the "Moggy" trackless travel carriage that moves the weld gun or guns along the weld seam in the forward or reverse direction at precisely controlled speeds. Two control options are available to automate applications involving continuous or stitch welding. Accessories are available for dual torch and oscillation.
Features :
Ideal for automatic horizontal fillet, lap and butt welding operations.
Wheels can be reversed to allow the Moggy to run on standard "V" groove track.
Controls are available to perform continous and / or stitch weld operations.

Gullco Heavy Duty "MOGGY" for Submerged Arc and Mig Welding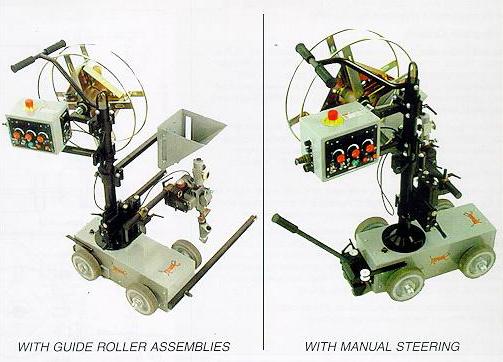 The versatility and reliability of the world famous Gullco "Moggy" trackless travel carriage system and a variety of quality engineered components combine to provide a highly flexible self-contained welding unit. This Gullco unit is designed to produce precision, quality Submerged Arc or MIG welds.
A unique optional "handled" steering device which drops down two guide wheels and raises the front of the unit off the workpiece enables manual steering of the travel carriage by the operator. The unit can also be guided by adjustable horizontal guide roller assemblies which maintain a set distance from a vertical member such as a vertical piece of a fillet joint or a guide rail. Optional adjustable height guide roller assemblies are also available.
The travel carriage comes complete with a removable attachment post that holds a wire feed head, flux hopper & valve (submerged arc unit only), wire spool, controls and adjustable weld positioning brackets with horizontal and vertical slides that enable full positioning of the weld gun either behind or beside the carriage. All components are fully adjustable and easily removed/assembled to provide a configuration to the weld requirement and enable the unit to be easily passed through an 18" (457 mm) manhole cut out.
Gullco's low voltage, 24 volt, advanced welding and weld motion controls incorporate closed loop, tack feedback systems to ensure precise wire feed and carriage travel.

---
PT. KRUPINDO LESTARI, Jl. P. Jayakarta 24/10-11, Jakarta 10730, Tel.(62-21) 639 3933 (hunting), Fax. (62-21) 639 8907, E-mail: info@krupindo.com